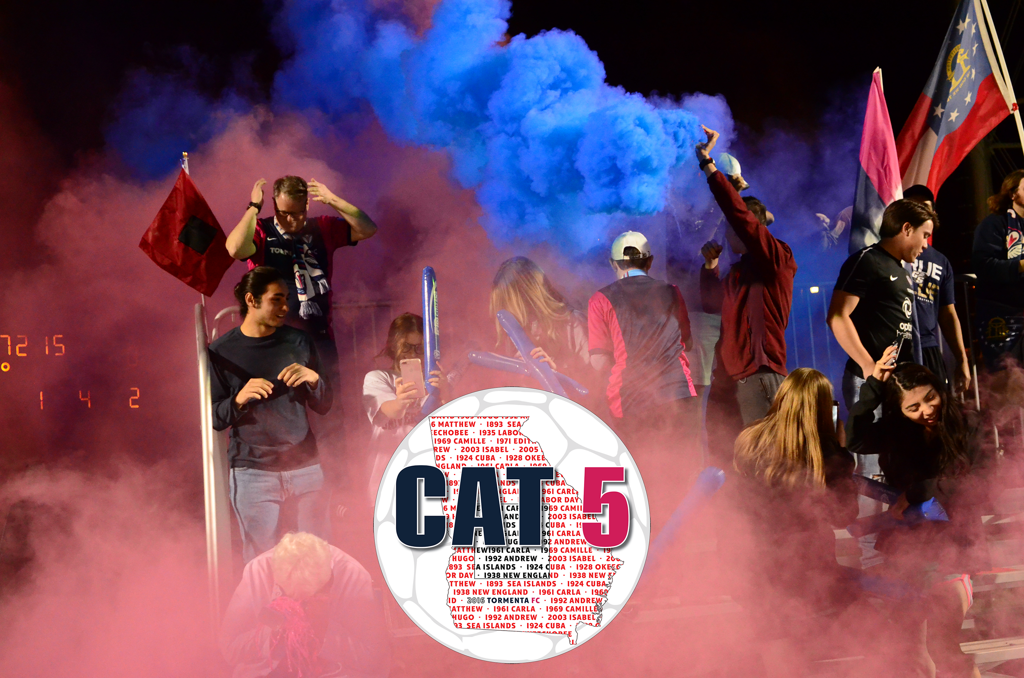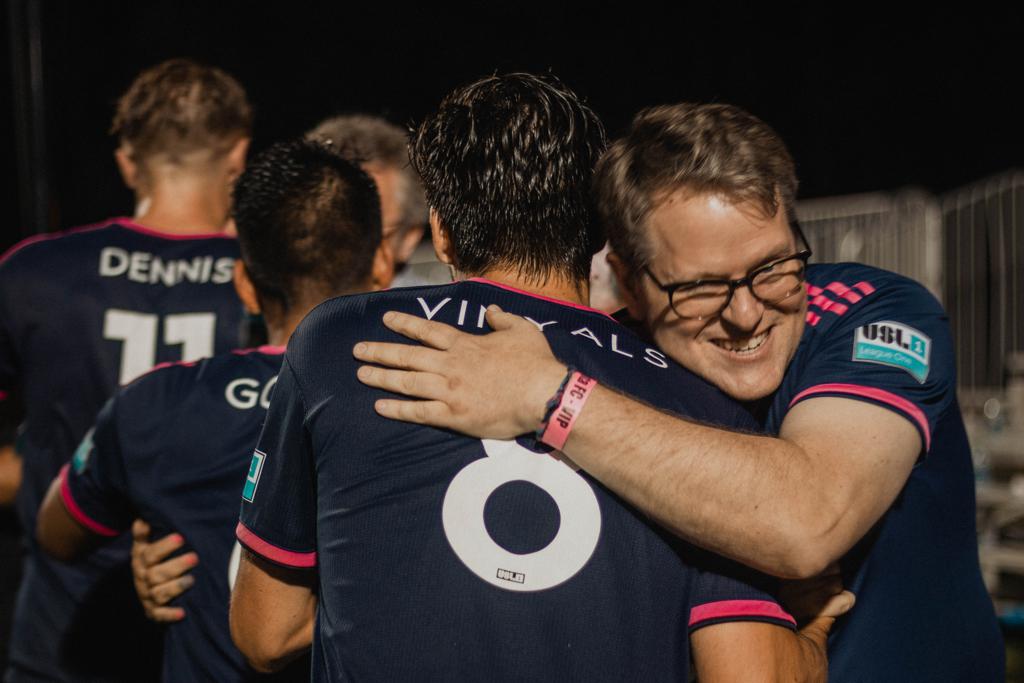 ---
What is Cat 5?
Cat 5 is the heartbeat and the driving force of Tormenta FC's W League team, Tormenta FC and Tormenta FC 2. The supporters in this group are some of the most passionate, energetic fans Tormenta FC has.
What Does Cat 5 Do?
Cat 5 is on its feet, waving flags, singing and banging on drums for all 90 minutes. Cat 5 does everything with energy and passion with the intent of motivating our boys and girls in blue and magenta.
Why Join A Supporters' Group?
Joining a Supporters' Group can really elevate one's typical game-day, experience. The Supporters' Section is the heartbeat of the stadium, the driving force behind the TFC every day, and the soul of game day.
Tormenta FC is working hard to provide the Supporters' Groups the best benefits and game-day experience – from tailgating space to early stadium entry. We want members of the Supporters' Section to rock on game days.
If you are interested in joining Cat 5, please reach out to cat5.tfc@gmail.com.
---
Supporters' Group Code of Conduct (CLICK HERE FOR MORE INFO)
South Georgia Tormenta FC is committed to creating a safe, comfortable, fun and entertaining soccer experience for all guests in and around Erk Russell Park. This Code of Conduct exists to ensure and maximize the enjoyment of Tormenta FC matches and all related events for everyone in attendance. It is the Club's expectation that Supporter Groups will be courteous to their patrons, fans, players and referees.
Tormenta FC expects its Supporter's Groups to abide by the following Code of Conduct guidelines. Supporter Groups have a right to expect an environment where:
Supporter Groups are encouraged to cheer, sing, chant, wave flags and otherwise support their team while remaining respectful and courteous to their fellow patrons, referees, opposing team fans and players. No chants with inappropriate language, including any comments regarding racism, discrimination, sexual orientation, ethnicity, etc., will be tolerated.
Supporter Groups enjoy the soccer experience free from fighting and disorderly or violent behavior, including foul, sexist, racial, obscene, derogatory or abusive language or gestures. Tormenta FC will not tolerate unnecessary negativity or bigotry toward fans, players, staff members or referees in any capacity. If you start or participate in a fight, you will be removed from the stadium.
Fans promptly and carefully return the ball to a stadium staff member or the ball kid on the sidelines in the event that a soccer ball enters the stands. Supporter Groups should not interfere with the match. No objects of any kind are to be thrown in the stands or onto the field. Fans are not allowed to enter the playing field.
Alcoholic beverages are to be consumed in a responsible manner and only by those of legal age. Fans must conduct themselves in a lawful manner to avoid incidents in the stadium and in the parking lots. Supporter Groups are prohibited in engaging in the use of or having in their possession any illegal substance or drugs.
Illegal activities at group tailgates or in the stadium will not be condoned or covered up. If these types of behaviors are witnessed, they must immediately be reported to Tormenta FC Game Day Staff or directly to law enforcement.
Supporter Groups sit in their assigned ticketed area.
Supporter Groups and its members are prohibited from committing any act or making any malicious public statement that could bring Erk Russell Park, Supporter Groups, Tormenta FC, USL, or any affiliates into disrepute.
Supporter Groups respect and comply with requests from game day staff regarding Erk Russell Park policies and emergency response procedures. If you feel as though you have been treated unfairly, please report the incident to Zachary Dalgard, who can be reached by email at Zdalgard@tormentafc.com, and the incident will be addressed as quickly as possible.
Tormenta FC Smoke Device Policy:
The USL, Georgia Southern and Tormenta FC permit the use of smoke devices in Erk Russell Park, but the following rules must be followed to ensure safety, that there is no interference with the match. The right to use smoke devices is a privilege, one which the Charlotte Independence and the USL can take away from supporters at any time. Before any smoke devices are used all team employees, stadium employees, security, and fans must understand the following:
The type of approved device allowed.
The approved timing and method use.
The specific approved locations for use.
Safety equipment required and any conditions that would change normal procedures for use.
Approved Device:
All smoke devices must be a "cool burn" device, which burns at a safe temperature. It must have less than a two-minute release time and have a non-incendiary trigger. It must indicate a moderate level of smoke density and not a high-density smoke (military HD smoke). Sport Smoke and Enola Gay products currently meet these standards. The home team must purchase, store, and distribute all smoke devices. Supporters are not permitted to bring their own smoke devices into a venue.
Approved Timing and Method Use:
Devices can be deployed at the player walk-out, after a home goal, and at the end of match with a home win. Additional deployments must be approved by Tormenta FC and the League prior to the match. All use must follow the manufacturer's safety and warning instructions. Devices can only be deployed in approved locations and cannot be deployed in general admission areas. Smoke devices cannot be held during the discharge of smoke. Teams must employ the use of a bucket, which the smoke device is deposited in once it is fired. The bucket should also have a lid to cover the bucket in case the smoke needs to stop.
Safety
Recommended safety gear should be employed when handling or around smoke devices. This gear may include gloves, masks, or eye equipment. All local and state regulations must be followed in the discharge of a device. The club/venue must meet with the fire marshal before any smoke device is allowed to be used to agree and document the conditions under which smoke devices can be used. Consideration should be given to weather, specifically wind and its direction, and humidity. The club and League reserve the right to discontinue the use of smoke device at any time, if it is deemed unsafe or is interfering with play.
Approved Users
Teams with supporters who wish to use smoke must have the sign a smoke device policy document. Each team will be provided with a template from USL League One. The team and the parties who wish to use smoke devices must sign this policy before any use. This policy must include a waiver, which excludes the team, venue, and USL League One from any liability associated with the use of a smoke device. Only persons who are in good standing with the club may be eligible to use smoke devices. These signed documents must be submitted to USL League One before smoke can be used in any venue. Any use of smoke device in a venue prior to the signed policy being submitted to the League will result in a fine. Travelling Supporters are not permitted to use smoke in an away venue.
Prohibited Items List:
Weapons of any kind including, but not limited to, knives, pepper spray, stun guns, concealed weapons and firearms.
Illegal drugs or harmful chemicals.
Any missile or projectile like object.
Aerosol cans or pressurized containers.
Professional camera equipment; tripods, battery packs, large commercial video cameras, cameras with detachable lenses and/or lenses 6 in. or longer.
Laser pointers or flashlights.
Remote controlled aircraft or unmanned aircraft systems (drones).
Animals (except service animals).
Signs / banners larger than 2 ft. x 2 ft. (or any other item that could obstruct other patron's views).
Umbrellas (Fans should bring raincoats/ponchos for inclement weather).
Outside food and beverage of any kind.
Metal or glass containers of any kind.
Backpacks and large bags over 14x14x6 inches (subject to search).
Noisemakers (air horns, drums, whistles, cowbells, horns, etc.).
Bikes, inline skates, skateboards, scooters, shoes with wheels.
Frisbees or inflated balls of any kind.
Un-approved pamphlets, handouts, advertisements, etc.
Strollers or baby seats may not be taken into the stands or left in section entrances.
Selfie sticks and/or monopods.
Any other items deemed to be inappropriate or dangerous by the person responsible for safety/security at Erk Russell Park.
In the case that a violation of the Supporters Group Code of Conduct were to occur, and is deemed severe enough by the Board of Directors, the membership of the violator may result in withdrawal, suspension, or expulsion. All disciplinary actions will go into effect immediately, and the duration of the punishment will be up to the discretion of the Board of Directors.
Tormenta FC and the United Soccer League thank you for adhering to the provisions of this Spectator Code of Conduct. Tormenta FC retains the right to change or modify this policy at any time.