Tormenta FC Pre-Academy Program
The Pre-Academy experience is a seasonal program (fall and spring registration) for players born between the years of 2011 and 2018 that focuses upon each player's skill and passion for the game. Pre-Academy prepares players to progress to the Junior Academy level and beyond through a dedicated, professional coaching staff that provides quality, age-appropriate instruction at these key age groups.
We look forward to partnering with your family in creating positive experiences on the soccer field that will lead to an increased passion for soccer participation and exercise. Our program goals of fun, learning, and soccer play create memorable experiences that kids love. Register for Fall 2022 participation that will begin at the end of August.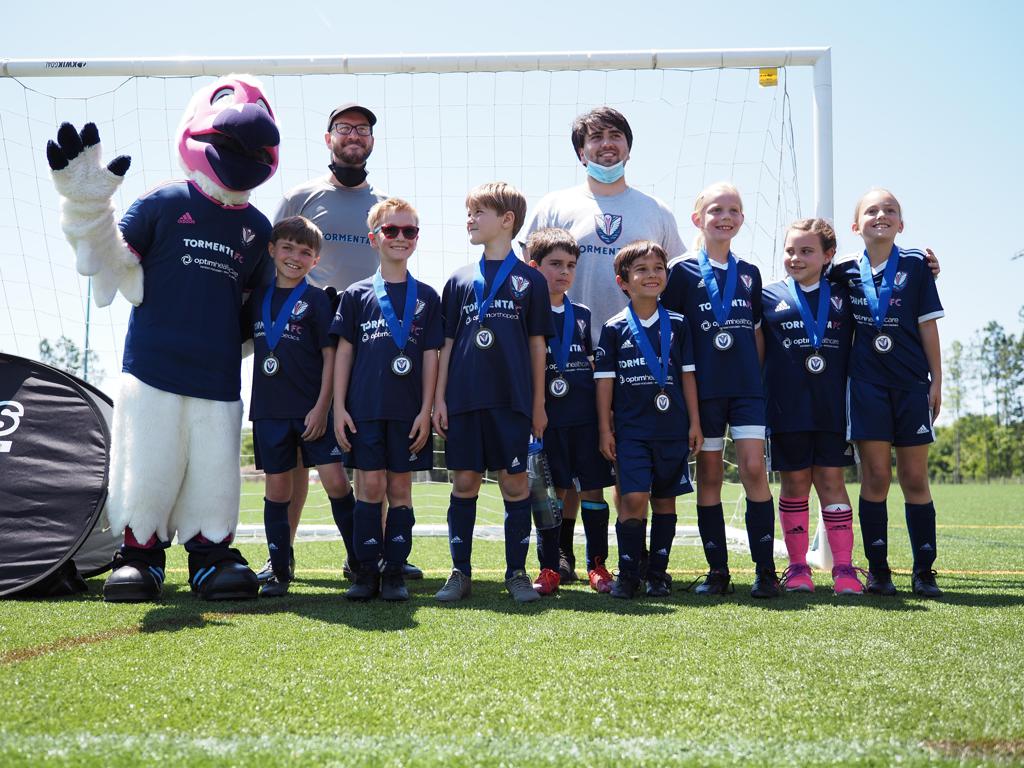 Training/Game Details
The Pre-Academy program will feature two practices a week (1.5 hours in length) and a game on Friday or Saturday. Our practices will promote fun and learning and allow your young soccer player time to enjoy the game of soccer while learning skills such as dribbling, passing, shooting, and team play that will promote success for them over the course of future participation. We will organize teams on the weekend that will allow for competitive matches (6-8 games) where all participants are challenged while having an enjoyable experience.
We feature licensed coaches performing all of the training and game coaching for this program. We value fun, learning, and building a passion for sports participation. Our coaches have been trained to create an environment of positivity that will allow your child to thrive.
Registration Information
The spring season kicks off the week of August 29. Our program will take place in the following locations:
Bluffton – USCB Campus

Training: Monday/Thursday – 5:00-6:30

Hilton Head – Barker Field

Training: Monday/Wednesday – 5:00-6:30

Savannah – Jennifer Ross Soccer Complex

Training: Tuesday/Thursday – 5:30-7:00

Savannah – Southbridge/Pooler

Training: Friday/Sunday – 4:30-6:00

Savannah – The Landings

Training: Monday/Wednesday – 5:00-6:30

Effingham – Sand Hill Park

Training: Monday/Wednesday – 6:00-7:30

Statesboro – The Clubhouse

Training: Monday/Wednesday
The registration fee for Pre-Academy is $350 per season (fall or spring) and the cost of the uniform package is $90. The uniforms will be used through the spring 2023 season.
Questions?
---
Uniforms
The cost of the Pre-Academy uniform package is $90. The uniforms will be used through the spring 2023 season.
Uniform Ordering Link: https://specialtysports.tuosystems.com/stores/tormentafcyouth
*Players may choose their own jersey number during the ordering process
The Pre-Academy Package includes Navy Game Jersey, White Game Jersey, Blue Practice Shirt, Navy Shorts, Navy Socks, White Socks.
Players will need to wear the blue practice shirt to practice and navy shorts and navy socks to practice and games, so you may want to purchase multiple sets of these items.