The 2023/2024 Financial aid cycle is now open. Applications must be received by June 15, 2023. Applications received after this deadline will be considered if there are funds available.
The application is available on PlayMetrics.
The following forms must be submitted with the application:
Copy of your most recent pay stub.
Copy of your most recent year's Federal Income Tax Return.
Requesting Financial Aid
To request financial aid, navigate to Club Programs located in the left-hand menu, and click the "Financial Aid" tab in the resulting view. From here, you can review the Club's financial aid policy prior to requesting assistance. Click the "Request Financial Aid" button to begin the financial aid request process.

Next, select the Player(s) that need aid and fill out the financial aid request form. Once you have completed the form click the "Submit Request" button.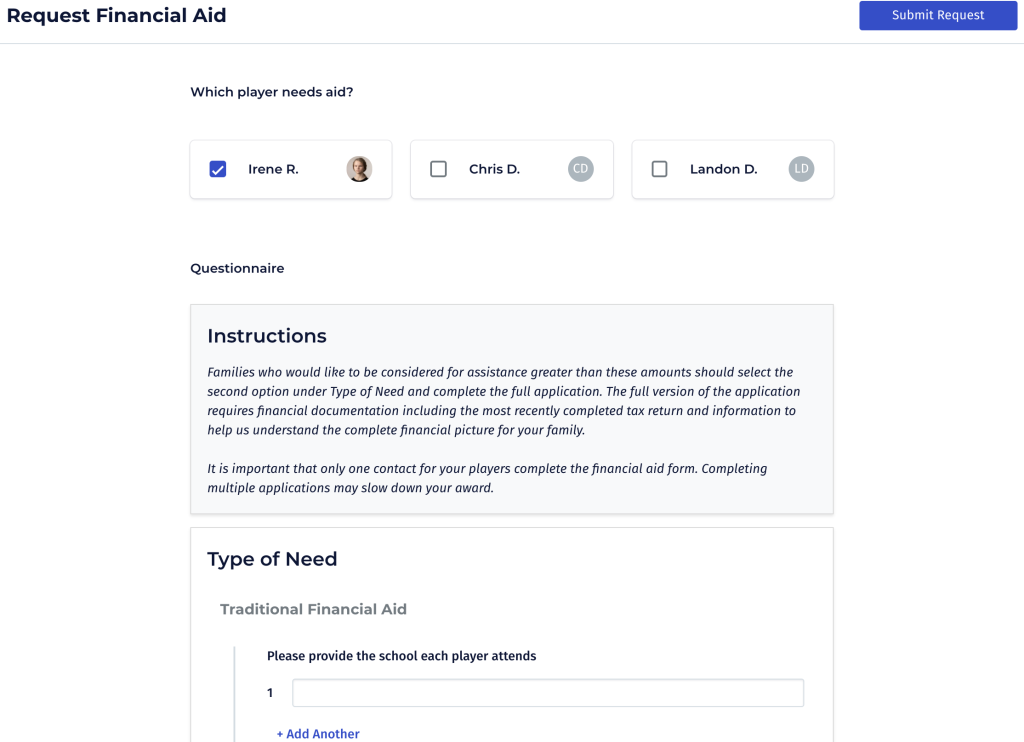 Finally, you will see a pop-up message informing you that your request had been submitted and you will receive a notification and email by the Club when a decision regarding your financial aid request has been made.
For more information on receiving communications sent by the Club, please see the article "Setting Communication preferences".
Viewing Financial Aid Decisions
Once the Club has made a decision regarding your financial aid request you will receive a notification from the system. You can view the decision by navigating to CLUB PROGRAMS and clicking the "Financial Aid" tab. Next, click on the row for your financial aid request to view the decision.

If the Financial Aid decision was rendered in your favor, you should be able to see a discount appear in your existing registration future payments, or in the checkout phase of your Club Program registration. You will also have the ability to view discounts that are available to your player in the "Available Discounts" tab.
FAQs
WHO DECIDES IF I RECEIVE FINANCIAL AID?
A financial aid committee comprised of directors and club owners will award financial aid.
HOW MUCH FINANCIAL AID WILL I RECEIVE?
Financial aid awards are intended to fill the gap between what a family can afford to pay and Registration, Team Fees, and Uniform costs. It is expected that ALL players will contribute something toward these financial requirements.
WHAT CRITERIA ARE FINANCIAL AID AWARDS BASED ON?
The goal of the financial aid program is to assist low-income families with extraordinary temporary circumstances. Awards will be based on:
Household income
Extenuating medical or family hardships
AM I REQUIRED TO DO ANYTHING ELSE ONCE I RECEIVE FINANCIAL AID?
We ask applicants to pay their portion on time. We may request a thank-you letter to donors but we will make sure all letters remain anonymous. Upon receiving financial aid, you will be asked to volunteer at certain events.
CAN MULTIPLE PLAYERS IN ONE FAMILY RECEIVE FINANCIAL AID?
Yes.
CAN PLAYERS RECEIVE FINANCIAL AID IN CONSECUTIVE YEARS?
Yes, as long as the financial need is demonstrated.
DO I NEED TO APPLY FOR FINANCIAL AID EVERY YEAR?
Yes, you must reapply each year.