STATESBORO, Ga. – South Georgia Tormenta FC 2 has announced the addition of midfielders Tiago Lopes, Mutaya Mwape, Yazid Omri, J.C. Ngando, and defenders Sam Layton, Owen Marshall and Dominik Kurija to its 2022 USL League Two roster, pending league and federation approval. The talented group joins a fighting Tormenta FC 2 roster ready to compete for its fourth consecutive USL League Two playoff run under Head Coach Tom Morris.
Tiago Lopes, 22, spent two seasons with the University of Tennessee Southern where he played 31 games during his time with the Firehawks. In 2021, Lopes started in all 19 matches, recording five goals and five assists. Earlier this year, Lopes announced his decision to transfer to Campbell University where he will start to build chemistry with Tormenta FC 2 teammate Jalen James.
Mutaya Mwape brings professional experience with him to Tormenta FC 2, having played for both the Charlotte Independence in the USL Championship and the Richmond Kickers in USL League One with an overall three goals scored and five assists recorded. Collegiately, Mwape played two years at Lindsey Wilson College between 2016 and 2017 and tallied 25 goals and 19 assists in 34 appearances.
Hailing from the capital city of France, Yazid Omri, 23, joins fellow University of the Pacific teammate Eric Cotton this summer in Statesboro. With four goals and four assists in 16 games, Omri was the Pacific's third-highest goalscorer in 2021. Omri also has previous experience in USL League Two after playing with FA Euro New York in 2021 where he played four games with the League Two side. In 2019, Omri spent the summer with Florida Elite SA, playing 12 games.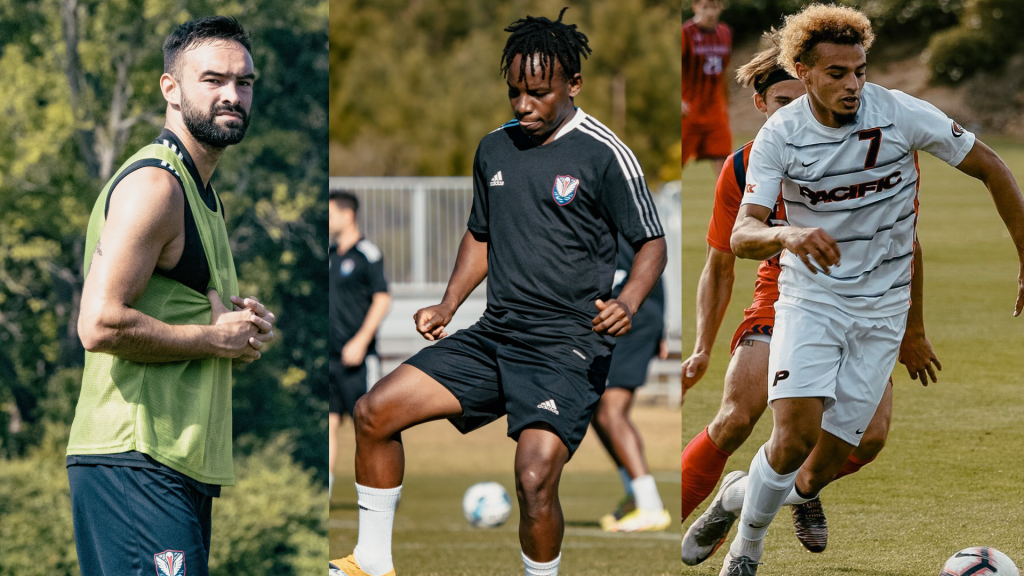 J.C. Ngando, the 2022 SoCon Freshman of the Year, joins Tormenta FC 2 after helping UNC Greensboro win the Southern Conference regular-season championship. As a freshman, Ngando hit the ground running, helping UNCG pull one of the biggest upsets in program history against formerly-ranked number two Clemson. Ngando scored the first goal in the 3-1 victory over the eventual NCAA National Champions. In 2021, Ngando featured in 15 matches, starting four and was ranked 13th nationally in assists per game and 32nd in total assists. Ngando ranked second in goals for the Greensboro side.
A native of Australia, Sam Layton has spent three years with the Southern Illinois University – Edwardsville men's soccer program where he has fought for his spot as one of the starters for Head Coach Cale Wassermann. In 2021, Layton appeared in 15 games for the Cougars, playing a combined total of 1140 minutes. That same year, Layton helped USL League Two side Kalamazoo FC reach the playoffs.
Owen Marshall, a 6-foot-1 defender, hails from Wingate University where he started in all eight of his appearances this season. Marshall recorded two goals and two assists on the season, leading the Bulldogs' defense to 0.55 goals against average and five shutouts. In 2019, the defender played a team-high of 1,832 minutes, recording one goal and three assists and earning 11 shutouts. Both years, Marshall was named to the First Team All-SAC and the All-SAC Tourney Team for his performances.
Dominik Kurija kicked off his collegiate career with Tyler Junior College from 2019 to 2021 before joining Xavier University for the 2022 season. In 2021, Kurija started in 17 out of his 20 matches and recorded one assist from the backline.
South Georgia's pre-professional soccer team, Tormenta FC 2, has helped nearly 50 players achieve their professional dreams since 2015. TFC 2 finished its season as champion of the Deep South Division in 2018 before making a run to the League Two Semifinals for the first time in club history in 2019. In 2021, Tormenta FC 2 finished the season with a 12-4-1 overall record (10-3-1 in the regular season), qualifying for the League Two Playoffs for a third straight season.