Tormenta FC Academy camps are fantastic experiences for both veteran and new soccer players. Our dynamic coaches will provide fun games that will promote soccer development, learning, character building, and exercise. Your child will greatly enjoy camp as we focus on a different skill each day that includes:
Monday – Dribbling
Tuesday – Passing
Wednesday – Shooting
Thursday – Team Play
Friday – Favorite Activities of the Week and Coaches versus Campers game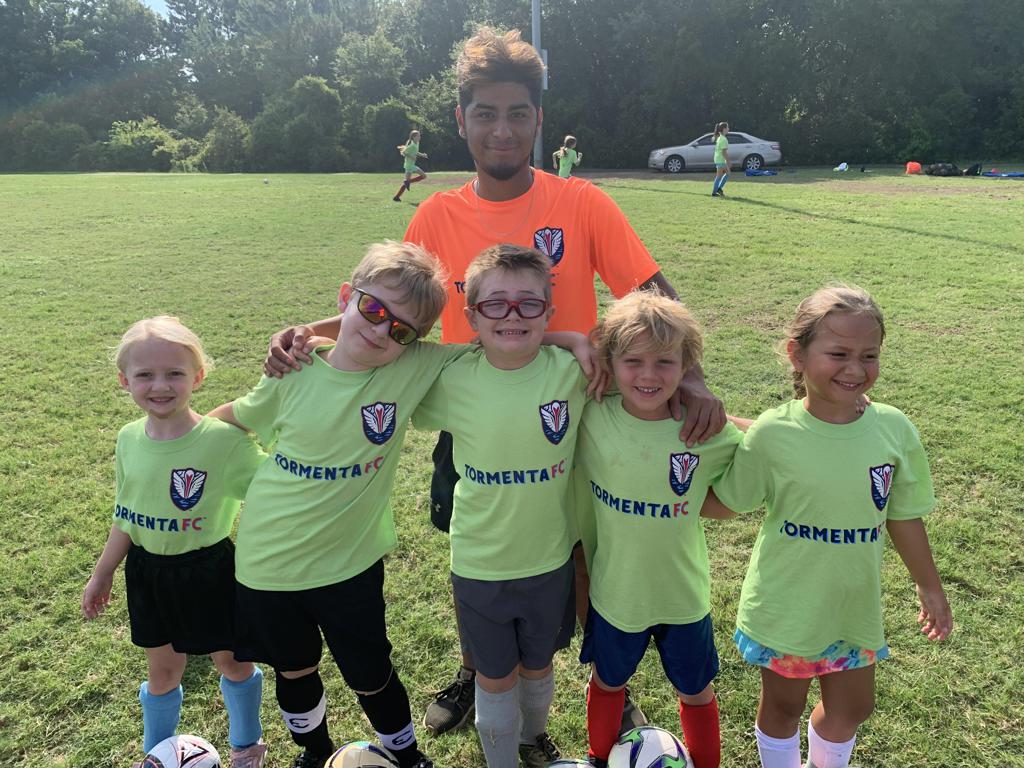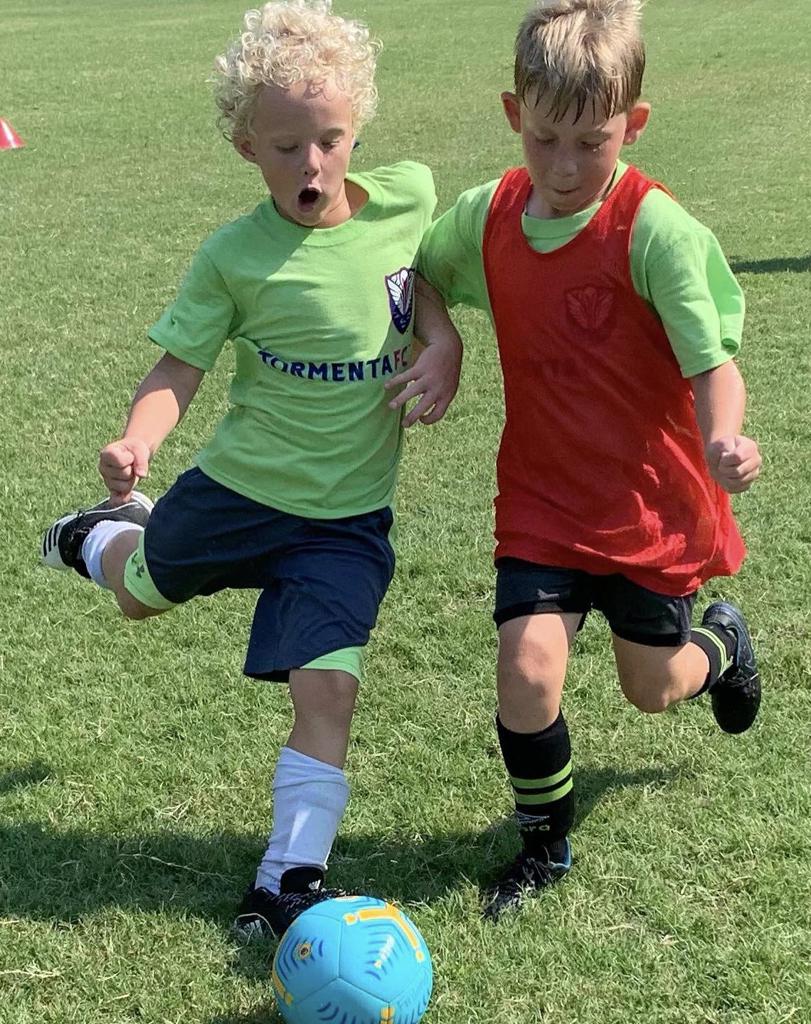 Half day camp runs at each location from 9AM to Noon. Individuals that register for full day camp will eat lunch in an inside area from noon to 1:00 and then play indoor soccer from 1:00-3:00. Each camper will receive a Tormenta t-shirt while full day campers also receive a soccer ball. We look forward to seeing you and your family at camp!

Each camper should wear/bring the following to camp:
Comfortable clothes in which exercise can happen
Soccer ball
Soccer shoes/flat bottom-running shoes
Shinguards
Soccer socks
Water
Multiple snacks
Sunscreen
With camps throughout South Georgia and the Lowcountry of South Carolina all summer, we have the perfect location for you. Check out all the details below.
---
---
Hardeeville: July 25-29
Hardeeville Recreation Facility
205 Main St., Hardeeville, SC 29927
Boys & Girls Ages 13-19 | 9 a.m. – 12 p.m. | $210
The Tormenta FC Academy U13-U19 Fall Prep Camp features elite training to prepare our Select players for the 2022 fall schedule. The summer camp will feature instruction from high-level coaches and players from Tormenta FC's professional USL League One squad.
---

Bluffton/Hardeeville: June 6-10
Hardeeville Recreation Facility
205 Main St., Hardeeville, SC 29927
Boys & Girls Ages 4-13 | 9 a.m. – 12 p.m. | $155
Hilton Head: June 13-17
Hilton Head Prep
8 Fox Grape Rd., Hilton Head Island, SC 29928
Boys & Girls Ages 4-13 | 9 a.m. – 12 p.m. | $155
Boys & Girls Ages 7-13 | 9 a.m. – 3 p.m. | $285
Bluffton/Hardeeville: June 20-24
Hilton Head Christian Academy
3088 Bluffton Parkway, Bluffton, SC 29910
Boys & Girls Ages 4-13 | 9 a.m. – 12 p.m. | $155
Boys & Girls Ages 7-13 | 9 a.m. – 3 p.m. | $285*
Note – No Full Day Camp on Friday*
Hilton Head Soccer Camp: June 27 to July 1
Barker Field
70 Baygall Rd., Hilton Head Island, SC 29926
Register Directly with Island Rec below
https://www.islandreccenter.org/summer-sports
Boys & Girls Ages 4-13 | 9 a.m. – 12 p.m. | $155
Bluffton/Hardeeville: July 11-15
USCB Recreation Field
1 University Blvd., Bluffton, SC 29909
Boys & Girls Ages 4-13 | 9 a.m. – 12 p.m. | $155
Hilton Head: July 18-22
Hilton Head Prep
8 Fox Grape Rd., Hilton Head Island, SC 29928
Boys & Girls Ages 4-13 | 9 a.m. – 12 p.m. | $155
Boys & Girls Ages 7-13 | 9 a.m. – 3 p.m. | $285
Bluffton/Hardeeville: July 25-29
Hilton Head Christian Academy
3088 Bluffton Parkway, Bluffton, SC 29910
Boys & Girls Ages 4-13 | 9 a.m. – 12 p.m. | $155
Hilton Head Soccer Camp: August 1-5
Barker Field
70 Baygall Rd., Hilton Head Island, SC 29926
Register Directly with Island Rec below
https://www.islandreccenter.org/summer-sports
Boys & Girls Ages 4-13 | 9 a.m. – 12 p.m. | $155
---

Effingham Soccer Camp: May 30 to June 3
Effingham – Sand Hill Park
300 Stagecoach Ave., Guyton, GA 31312
Boys & Girls Ages 4-13 | 9 a.m. – 12 p.m. | $155
Savannah Soccer Camp: June 6-10
Grand Lake Club at Southbridge
815 Southbridge Blvd., Savannah, GA 31405
Boys & Girls Ages 4-13 | 9 a.m. – 12 p.m. | $155
Boys & Girls Ages 5-13 | 9 a.m. – 3 p.m. | $335
***Noon to 3 p.m. is lunch at the Lodge and swimming at the pool***
Savannah Soccer Camp: June 13-17
Jennifer Ross Soccer Complex
7221 Sallie Mood Dr., Savannah, GA 31406
Boys & Girls Ages 4-13 | 9 a.m. – 12 p.m. | $155
Savannah Soccer Camp: June 20-24
Abolt Obrien Soccer Field
7020 Concord Rd., Savannah, GA 31410
Boys & Girls Ages 4-13 | 9 a.m. – 12 p.m. | $155
Savannah Soccer Camp: July 11-15
Calvary Day School
4625 Waters Ave., Savannah, GA 31404
Boys & Girls Ages 4-13 | 9 a.m. – 12 p.m. | $155
Boys & Girls Ages 7-13 | 9 a.m. – 3 p.m. | $285
Pooler Soccer Camp: July 18-22
Pooler Recreation900 S. Rogers St., Pooler, GA 31322
Boys & Girls Ages 4-13 | 9 a.m. – 12 p.m. | $155
Boys & Girls Ages 7-13 | 9 a.m. – 3 p.m. | $285
Savannah Soccer Camp: July 25-29
The Landings Athletic Fields
600 Landings Way, Savannah, GA 31411
Boys & Girls Ages 3-14 | 9 a.m. – 12 p.m. | $155
Savannah Soccer Camp: Aug. 1-5
Jenkins Athletic Club
6408 Waters Ave., Savannah, GA 31406
Boys & Girls Ages 3-14 | 9 a.m. – 12 p.m. | $155
Boys & Girls Ages 5-14 | 9 a.m. – 3 p.m. | $285
---

Tormenta FC Camp: June 27 to July 1
The Clubhouse Soccer Fields
2704 Old Register Rd., Statesboro, GA 30458
Boys & Girls Ages 4-13 | 5-8 p.m. | $155
Tormenta FC Camp: July 25-29
The Clubhouse Soccer Fields
2704 Old Register Rd., Statesboro, GA 30458
Boys & Girls Ages 3-14 | 5-8 p.m. | $155
---

Tormenta FC Academy Goalkeeper Camp: June 6, 7, 8, 9
Hardeeville Recreation Facility
205 Main St., Hardeeville, SC 29927
Goalkeeper Coach: Tormenta FC GK Coach Tyler Brands
$155 | 6 p.m. – 8 p.m. | Ages 10-18
Tormenta FC Academy Goalkeeper Camp: July 11, 12, 13, 14
The Landings Soccer Fields – Savannah
600 Landings Way, Savannah, GA 31411
Goalkeeper Coach: Tormenta FC GK Coach Tyler Brands
$155 | 6 p.m. – 8 p.m. | Ages 10-18