STATESBORO, Ga. – There was beautiful weather today at Erk Russell Park as South Georgia Tormenta FC hosted Mercer University Men's Soccer for a preseason test ahead of the 2022 USL League One season. The match finished 1-1, with forward Arthur Bosua staying in good form, scoring his second preseason goal.
Tormenta FC started the match ready to score and broke through with a goal in the sixth minute. Midfielder Kingsford Adjei began the play with a pinpoint pass to Bosua, who fired the ball over the Mercer keeper's shoulder for the first goal of the day.
The League One side finished the first half ahead 1-0 after pressing hard throughout the first 45 and keeping much of the play on Mercer's side of the pitch.
The second half saw numerous shots on goal and opportunities for TFC trialists to prove themselves in the backline. Notably, Adjei nearly added a goal to his assist today, hitting the left post in the 81st minute.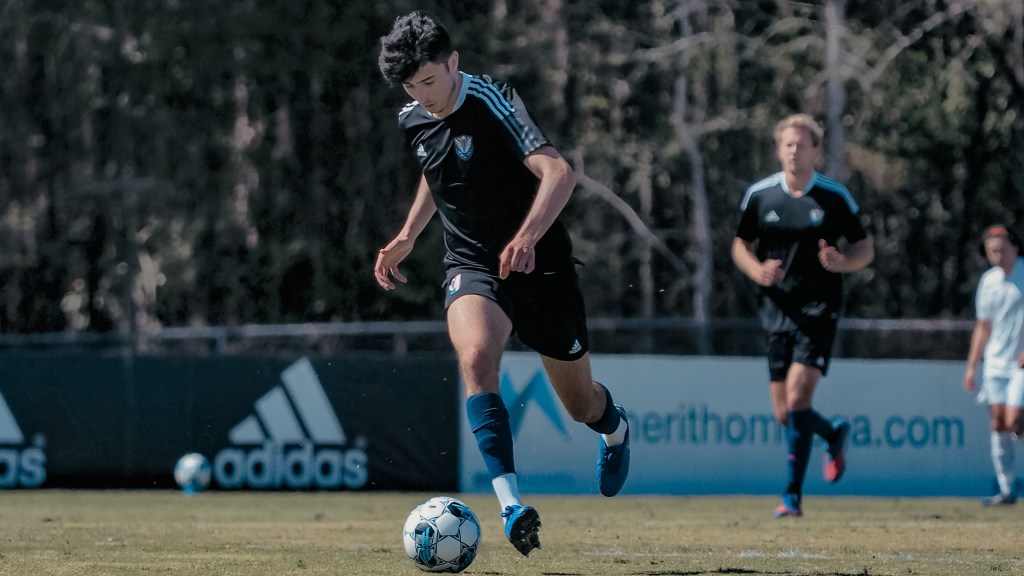 The Bears evened the score late into the match after a Mercer forward challenged Jara one-on-one. Tormenta FC was unable to pull ahead a second time and ended the match tied 1-1 to Mercer.
Overall, Tormenta FC's attack looked impressive and spirited today, with Bosua staying consistent up top and newly-signed forward Alex Morrell showing his vision and pace to create scoring opportunities.
Tormenta FC is excited for a historic 2022 as it transitions from Erk Russell Park to Tormenta Stadium. Single-match tickets are now live for advance purchase with Tormenta FC's home opener approaching on April 2 at Erk Russell Park. Supporters can also purchase season memberships or Flex Ticket packages and guarantee their presence at every home match this season.
UPCOMING:
Tormenta FC's final preseason test comes next Saturday, March 26, at 12 p.m. ET against Young Harris College. South Georgia will host the Mountain Lions at Erk Russell Park in preparation for its 2022 season home opener against North Carolina FC on April 2.
Supporters can watch the 2022 League One squad in action for $5 with tickets available in advance here.
Additionally, Statesboro Pride will host a tailgate event preceding the match at 10 a.m. in the Erk Russell parking lot. There will be brunch provided and information about Boro Pride's work in the community and goals for this year!