Mother, business proprietor, Tormenta FC Owner, and wife are just a few of the many titles Netra R. Van Tassell bears with honor. Through her success, Netra has made it a priority to make the world a better place with every interaction.
"And that's what I'm really meant to do here," Netra said. "To touch and to build lives."
Netra has overcome several obstacles in her life to reach the point she has. Along with working her way up in a male-dominated field and enduring family hardships, she is credited with creating a respectful and hard-working environment everywhere she goes.
Netra and her husband, Darin Van Tassell, have followed their dreams and are the owners of numerous businesses in Statesboro, Georgia, including The Clubhouse, a 64-acre family entertainment center, and South Georgia Tormenta FC, a professional soccer franchise.
While Darin serves as the face of the Tormenta FC organization, Netra prefers to stay out of the limelight, focusing on making personal connections with everyone she encounters.
Marco Micaletto, a former long-term Tormenta FC player and fan favorite from Italy, calls Netra his American mom.
"She's always available. A lot of people are able to be great if you have known them for a while, but Netra will be there for her players after 1-2 minutes or several years."

Marco Micaletto, Former Tormenta FC Midfielder
"She's always available," said Marco. "A lot of people are able to be great if you have known them for a while, but Netra will be there for her players after 1-2 minutes or several years."
Marco reflected on his first few days as a member of Tormenta FC in 2018. He was new to Statesboro when he began to feel ill. With no one else to call, he reached out to Netra and her husband, and within minutes, they were there to take him to the hospital.
"Netra and Darin didn't leave my side," Marco said. "They made me feel safe and welcome in a scary time, and I will never forget that."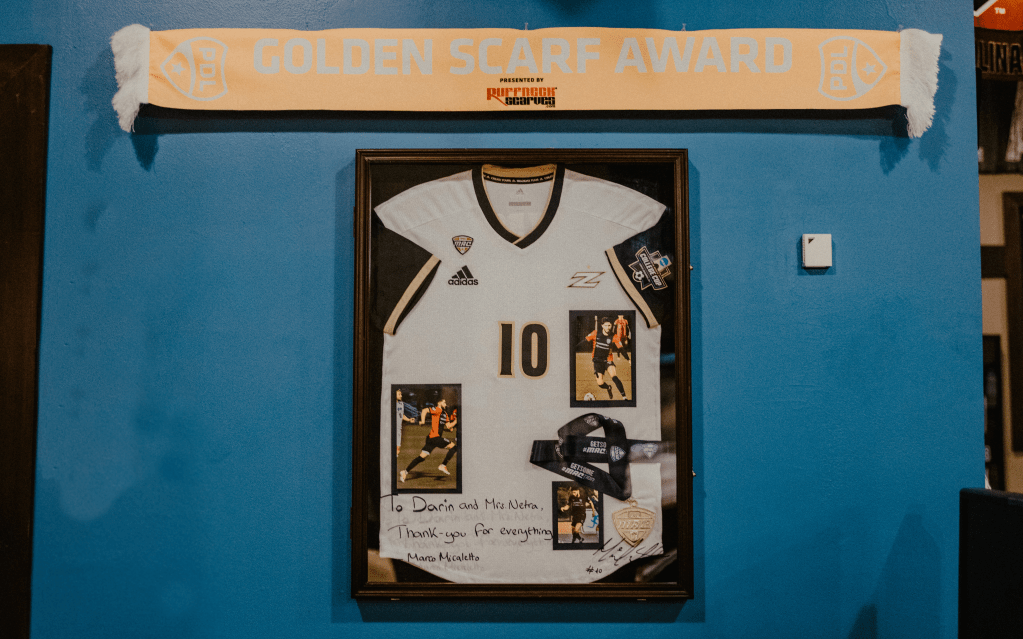 Players and employees alike enjoy their experiences with Netra. Jennifer Woodard has worked with the Van Tassels at The Clubhouse for nine years and sees Netra as more than just a boss.
"I consider her to be a friend, which isn't typical for an employee-boss relationship," Jennifer said. "She gives me parenting advice and is always there when I need her."
Jennifer smiled as she explained her love for movies, thinking fondly of a particular birthday a few years ago. It fell on a day in the middle of the week, so Netra and Darin took her to the movies during normal work hours as a birthday treat and have done it every year since.
"Above anything else, she is a kind, selfless person who puts others above herself," Jennifer said in admiration.
Being a Woman in the Industry
Women face a multitude of challenges in the workplace and generally have to work much harder to achieve success in male-dominated fields. Netra has seen her fair share of difficulties along the way but has shown determination to change this notion for herself and others.
"I physically remember being in the first room of USL (United Soccer League) owners, and I was the only woman there," Netra recalled. "I can see the room full of men in my head to this day."
During her early days as a USL team co-owner, she was often viewed as the wife to her husband, rather than a respected professional.
At one meeting, "Someone looked at me, and then looked at my husband, and then asked him a question that was intended for me," Netra said. "I was like, 'Hello, I'm here,' and then I answered the question myself. Another man in the group turned to look at me and literally said, 'Wow, you're not just another pretty face. You actually know something.'"
Netra grew frustrated by the interactions she encountered as a result of being a female but has made efforts to combat this misogynistic mindset. She feels it is important for women to lift each other up to climb the ladder.
Netra is now one of many female executives across the USL and part of a female executive group started by USL President Amanda Vandervort.
"It's important for women to support women," Netra said. "Let's do this together, shine a light on other women and help support each other so that there are more females in executive roles and across all platforms of business."

Netra R. Van Tassell, Tormenta FC Co-Owner
While there are currently more women in lead sports executive roles than ever before, the uphill climb is not finished. For more strides toward equality to happen, the support must continue and grow stronger.
Given her dedication to changing the narrative of women in sports, Netra was eager to bring a high-level women's team to the Tormenta FC family.
Netra distinctly remembers when she and Darin got a call from the USL, offering them the opportunity to join the newly formed USL W League as a founding member. They didn't hesitate and decided to do whatever necessary logistically to make it work.
Young women in the community having more role models and a place to showcase their talents pre-professionally just made sense to Netra.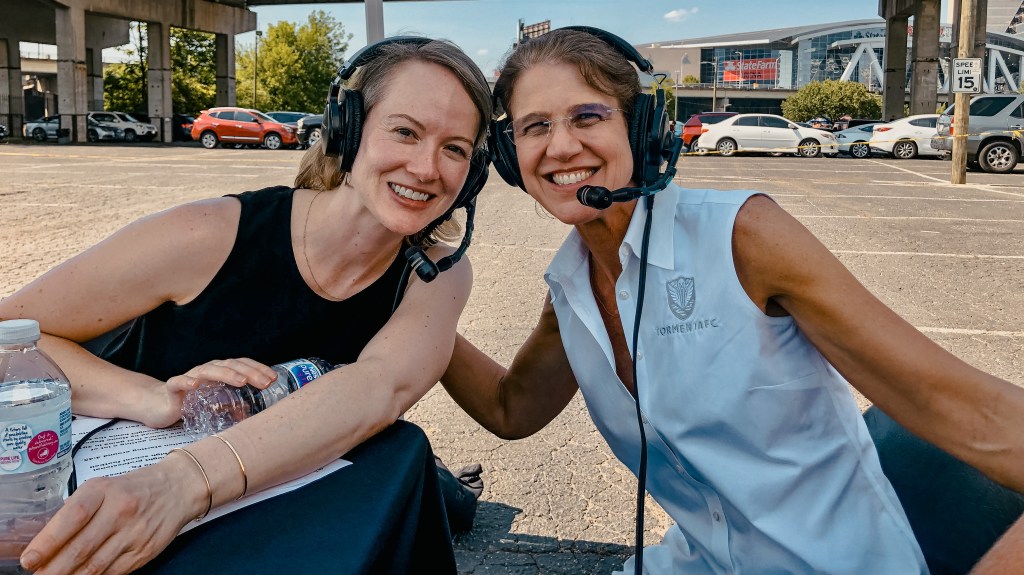 "It gives me chills actually," Netra said. "Having a USL W League team was a no-brainer."
Netra's advocacy of equality does not solely lie on the women in the business aspect of sports, but also in female athletes. She strives every day to help the women's team be treated with respect.
"I'm very adamant about making sure our women's league is being referred to as our W League," Netra said. "They aren't the Tormenta FC girls, the female Tormenta team, or anything like that. We need to make sure we elevate our W League to the platform it deserves. They have earned that respect."
Netra and Darin have had several discussions on implementing a change to the face of the sports business. Netra's goal is to leave the world better than it was when she was here. Pioneering a movement of equality of women in sports would do well to accomplish that goal.
"I hope that having the W League will help continue to open doors for young women professionals off the field as well, to be able to work as trainers, coaches, and in the front office here at Tormenta FC," Netra said.
Netra's ambitions aren't just limited to gender equality. She also seeks to promote equality across the board in multiple regards.
"We make sure when we put a call out, to guarantee we are getting a wide variety of people, so that we are not only getting the right person for the right position, but that we are welcoming people of different backgrounds in all ways, shapes, and forms to be a part of Tormenta FC," Netra said.
Turmoil
Netra's passion for empathy and hard work can be attributed to experiences from her childhood.
Her eyes welled up as she explained her birth mother's absence while growing up. Her dad worked hard to raise her and her sisters the best he could, but Netra couldn't ignore the turmoil and struggle her family went through to cope.
Netra expresses that occasions such as Mother's Day were especially hard when teachers would prompt the class to make something to bring home for their mothers.
She described the hardships of her youth as something she had to work through but credits the experience for who she is today.
To this day, Netra doesn't drink alcohol and has never smoked. She had to grow up quicker than most, and it's evident considering who she became.
"I wouldn't be where I am today without having gone through some of that," Netra said.
For normalcy and enjoyment, Netra began to swim as a sport for herself. She smiled as she described her experience in the pool.
"Swimming was and still is a significant part of my life," Netra said. "Swimming allows me to have a place to be myself and to be happy and feel a sense of accomplishment."
Netra's struggles did not end when she reached adulthood. In 2008, with a family of her own to consider, Netra was diagnosed with a brain disease.
She was suffering from upwards of 200 seizures a day when she was thrust to finally need to take the risk and have brain surgery. She shook as she reflected on the pain of having to leave her children and husband to go under the knife.
While the surgeon was able to successfully complete the operation, Netra had to be completely rehabilitated. She had to relearn basic skills such as walking and talking.
Although this was a troubling time in her life, Netra used all of her hardships to relate and understand other people and uses this notion in her everyday life.
Beginning of Netra and Darin's Success Story
Netra and Darin graduated from Georgia Southern College in 1990. At that point in time, Netra's focus was on education. She earned a Bachelor of Science in Education in Early Childhood and Special Education and went on to complete her Master's in Education at the University of South Carolina with a concentration in Exceptional Children.
For years, Netra taught and worked in the education field and enjoyed her time doing so.
In the late 1990s, Netra gave birth to her first son, Whitt. Three years later, she and Darin welcomed their second son, Payne.
Netra's transition as a successful business owner began when she and her husband were eating at a restaurant in 1996. As a result of an inspiring conversation, they drew up a plan on a napkin for their first business aspiration, a golf range.
Every three to four years from that point, Netra and Darin expanded their business, which eventually led to the opening of The Clubhouse.
With inspiration from their son Payne's love of soccer, they decided to start a Premier Development League (now known as USL League Two) team in 2015. Tormenta FC began as a pre-professional team and later grew into the professional USL franchise we know today with multiple elite USL squads and a flourishing academy with teams across the region.
"As parents and educators, we felt it was a way that we could touch people's lives and help give them a broader and firmer foundation they could continue to build upon to be amazing individuals in whatever ways they choose," Netra said. "It allowed us to get in and be on the ground floor of a huge growth in the USL. Once we were in, we were hooked."
Netra smiled as she explained the joy she has experienced being an owner of Tormenta FC. She looks forward to watching the players grow into fabulous men (and now women) on the pitch and off and to watch them earn their success.
"Every player is different in his (and now her) needs and wants, but for all, I will be their biggest cheerleader when they're here," Netra said. "I won't do their laundry, but I will support and guide them in whatever they need. And I have gone wedding ring shopping with several as well. It is a true honor and joy for me."
Now with the club's new women's team, the growth of female executives in the USL, and the continued development of Tormenta FC and The Clubhouse, Netra looks forward to continuing to build lives and make an impact.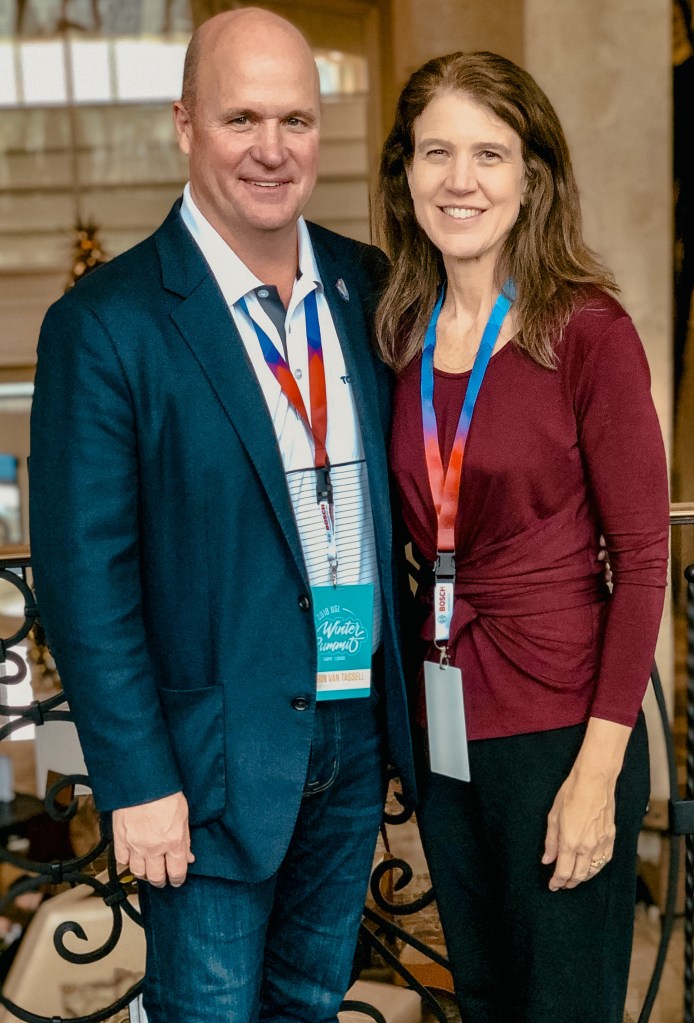 "I'm trying to leave things better every day"

Netra Van Tassell
*Written by Veda Broderick.